Enhancing the lives of people with disabilities, that's the common interest of the people who gathered during three days at the AccessAbilities Expo in Dubai, from 7th to 9th November.

This event was held under the patronage of H.H. Sheikh Ahmed bin Saeed al Maktoum, President of Dubai Civil Aviation Authority, Chairman of Dubai Airports, Chairman and Chief Executive of Emirates Airline Group. It attracted more than 6000 visitors, 148 exhibitors from 24 countries,  in a 8000 sqm space that served as a platform for manufacturers, distributors, investors, governments and non governmental organizations, medical and education institutions, care-givers and end-users.
The exhibition was not just about presenting and discovering new products or making the link between new projects and investors. The purpose was also to share knowledge about new treatments, services and initiatives, inform about rehabilitation and education opportunities, find partners and support, interact with local and international specialists in order to improve the lives of disabled people and ease their integration in society.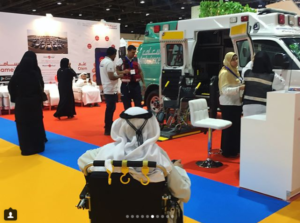 A particular attention was given to the issue of integration in the Workplace with a conference being held to discuss the challenges for companies that hire people of determination, and to try and dissipate their doubts and hesitations. Because people with disabilities can bring as much skills, creativity, talent and positivity as any other citizen, it is important to value them positively, create awareness and support the companies that are committed in their employment and rehabilitation.
The exhibition also featured a sport area, recreational activities such as yoga, meditation or martial art classes, and an Innovation Lab to discover the latests products and innovations.
If you want to learn more about this event and the participants, visit their website: AccessAbilitiesExpo.com